Arnold Market purchase
Date Posted: 10:09 AM on Thu, 19 July 2018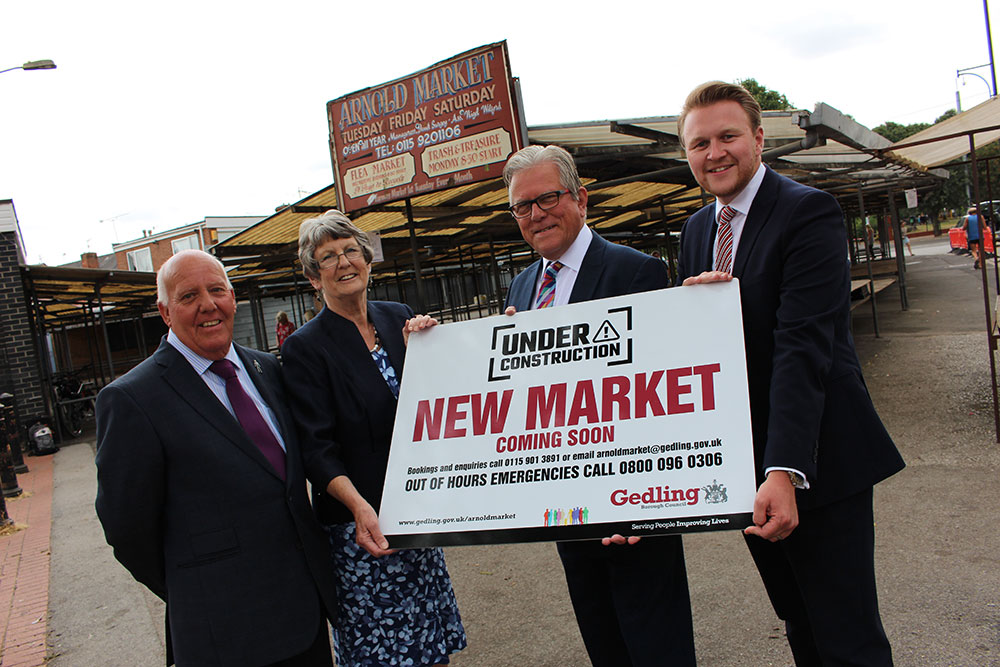 Gedling Borough Council has completed the acquisition of Arnold Market. The council has officially completed the purchase and is now managing the market with immediate effect.
In October 2017 the council announced plans to buy the market on Front Street, Arnold and today met with representatives of Thurland Estates Ltd, who previously owned the market, to be presented with the keys and take possession of the site.
The market will continue to operate as normal whilst work begins to improve the site. Regular traders have been notified of the new arrangement and have been given the new licence agreements and contact details for the council's Property Team, who will manage the day to day aspect of the market.
The council's future plans for the market will include improving its appearance, increasing the use for community events and activities and working with market traders to widen and increase the choice of goods and services. The council will also be looking at options for specialist markets, including evening and weekend markets.
The work to improve the market, which originally opened 50 years ago in 1968, will be phased. Some of the site will be closed immediately and hoardings put in place to allow new modern stall structures to be installed. Whilst these works take place the stall holders will continue to use the site. Consultation on the long term improvements will begin soon and the council has launched a new page on its website, dedicated to the market.
The market improvement will be boosted by a bid for £1.25 million of funding from the N2 Town Centre Fund - part of the Local Growth Fund from the D2N2 Local Enterprise Partnership that supports town centre improvements.
Leader of Gedling Borough Council, Councillor John Clarke said:
"How fitting that the year the market turns 50 it will be getting a new lease of life, under council management. We made a pledge to improve Arnold town centre and with the acquisition of the market, the work to improve Eagle Square and refurbishment of Arnold Leisure Centre and Bonington Theatre we are delivering on our promise to Gedling residents. I'd like to thank Thurland Estates Ltd for their co-operation to make this deal happen. The funding from D2N2 will help turn this market into a bustling, busy market again. People will be flocking back to Arnold, which will be a great boost for the local economy."