Gedling Country Park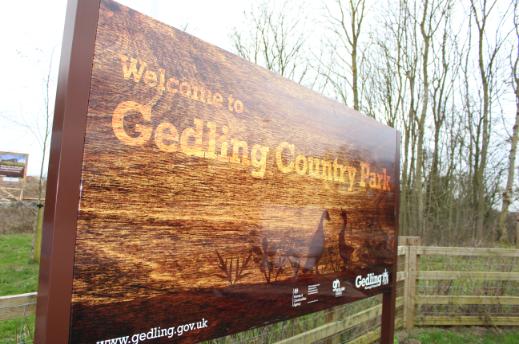 About the park
Gedling Country Park opened in 2015. The park has 580 acres of open space, footpaths and wildlife, with stunning views over the surrounding areas and plenty of space to enjoy the outdoors for exercise and activities and to experience nature and wildness on your doorstep!
The park has a popular chldren's play area, complete with mining tower slide and zipwire, several picnic areas, two viewing platforms, a visitor centre where you can find out more about the history of the park and surrounding area and a fabulous cafe, offering hot and cold food and drinks.
Please like the Facebook page to stay up to date with everything that is happening at Gedling Country Park.
Please note that all parks are extra busy as a result of coronavirus restrictions. We welcome people to continue to use our parks, but please respect social distancing measures at all times and keep to the left on paths to let people pass and help us keep everyone safe on their visits.
Cafe 1899

The indoor and outdoor seating areas at Cafe 1899 are temporarily closed, in line with Covid-19 restrictions.
The cafe is still serving takeaway hot and cold drinks and snacks from the hatch though, so do call by for refreshments to take on your walk around the park or a treat for when you get back home.
Cafe opening times
| | Monday - Friday | Saturday - Sunday |
| --- | --- | --- |
| 12 April - October | 9am - 3.30pm | 9am - 4pm |
| November - 11 April | 9am - 3pm | 9am - 4pm |

You can call the cafe during their opening hours on 0115 926 1388.
Toilets
Toilets are located in the visitor centre. The toilets' opening hours are the same as the cafe.
Please note, the toilets are currently having additional cleaning sessions throughout the day and during those cleaning sessions, are not accessible. Please wait outside until the cleaner has finished, if they are working in there when you arrive.
Changing Places facility
The park boasts a Changing Places facility, which includes height adjustable changing benches, a tracking hoist system, space for disabled people and carers, a central toilet and a non-slip floor. Access to the room is available with a radar key.
Please note, due to additional safety measures in place in response to the Covid 19 pandemic, the room is currently kept locked (so that we know when it has been used and needs cleaning). Please just ask in the café or at the hatch for the key.
Children's play area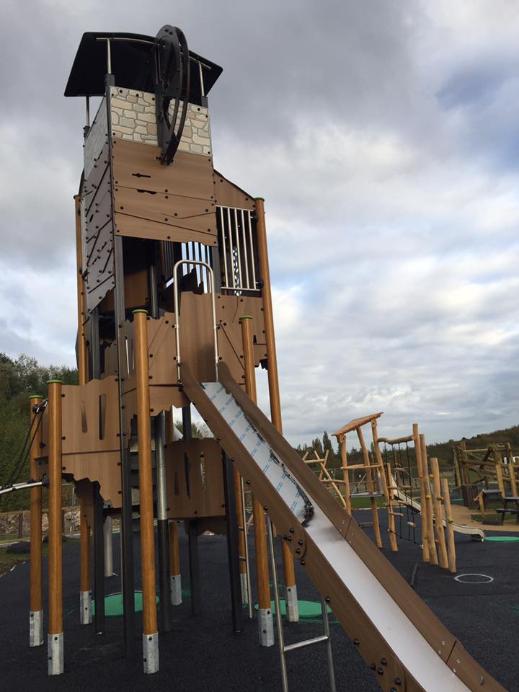 Come along and enjoy one of the top play areas in the borough! I incorporates the park's mining heritage with a rustic mining tower slide, mining train and old pit grasslands. The park has a toddler area, complete with swings, slides and a wheelchair accessible roundabout.
Walking and cycling

We've laid out a series of trails to allow you to get round the park easily. They are graded for length and difficulty so you can take anything from a quick stroll with a pushchair to a strenuous workout.
Top Hard (Red) - 2.8km long with some steep inclines.
High Hazles (Blue) - 1.4km with gentle slopes suitable for wheelchair users.
Main Bright (Yellow) - 2.7km of mainly easy paths but with a sharp slope at one point.
Low Hazles (Green) - at 5.7km it's the longest route with several steep parts.
All routes are circular and are signposted at every junction.
You can print and bring an Gedling Country Park Map (A4).
Nature trail
The accessible High Hazles route includes a wonderful nature trail for families to follow and discover carvings of eight animals which can be found within Gedling Country Park.
The trail starts just after the children's play area. To complete the trail you will need a nature trail leaflet and a crayon, which you can purchase from the café for 20p. The leaflet tells you all about the wildlife at the park and other things that you can look out for during your visit.
Viewing platforms
Two viewing platforms were officially opened by the Mayor of Gedling on 10 July 2020. They provide views as far as Lincolnshire and Leicestershire. Each platform has interpretation panels with information about some of the sights you can see, including Lincoln Cathedral, St Mary Magdalene Church in Newark, Gunthorpe Lock and Belvoir Castle.
The platforms, facing to the North and South of the park, both feature wheelchair and pushchair accessible ramps, to ensure that they can be enjoyed by as many visitors as possible.
'Friends of' groups
Gedling Country Park is supported by the Friends of Gedling Country Park group. Find out more about this group and others on our 'Friends of' page.
Getting to the park
By car
Spring Lane entrance
The park is accessible by foot at all times, but the car parks are only open from dawn until dusk. Car park gates are closed at night. The Spring Lane entrance car parking area has recently been increased.
Lambley Lane recreation ground entrance
(Please note; Lambley Lane is currently closed from Spring Lane end, but the car park on Lambley Lane can be accessed via Arnold Lane.)
The route into the park from the recreation ground involves crossing stiles, so people with mobility problems or pushchairs should use the Spring Lane car park.
Car parks' opening times
| Month | Open | Closed |
| --- | --- | --- |
| March | 8am | 6pm |
| April | 8am | 7pm |
| May | 8am | 9pm |
| June, July and August | 8am | 9pm |
| September | 8am | 7pm |
| October | 8am | 5pm |
| November - February | 8am | 4pm |

By bus
Nottingham City Transport run buses that go close to the two main entrances of the park.
Management plan
A full copy of our Management Plan is available to view online and is deliberately designed as a working tool to assist staff, contractors, stakeholders and the park's 'Friends' group to articulate and share their vision, understand their roles and responsibilities and plan for the future of Gedling Country Park.